Regular price
$59.99
Sale price
$36.99
Unit price
per
Sale
Sold out
Explore Pro Photo Puzzles

140 Million Pro Photos at your fingertips!

Have you ever thought about creating your own puzzle? Now, this isn't just about sending in your pictures to be made into puzzles.

We know how difficult it is to find high-resolution pictures to make the large custom photo puzzles you want.

We know how you'd also like to use an image of your favorite Landscape, Sport, Park, Pets or City but don't know how to find them.

Are you bored with the limit to the stock-puzzles you have? Then, we bring to you the first of its kind;

A catalog of high-resolution pictures to choose from and customize your puzzles.

A picture for every keyword. Every landscape. Every city.

We will offer you access to a 140 Million High-Resolution photo databases.

You can browse through different categories, search by keywords, and pick the picture you love. You can also add your own texts to finalize the customization process for your own unique Custom Photo Puzzle.

Our goal is to simplify your customization process. You can pick away!
Your Picture Specification Guide

The higher the resolution, the better the quality of your printed photo puzzle.


For 100 and 260 piece puzzles, we recommend 150dpi and 1913 x 2409 pixels

We recommend a minimum dpi (dots per inch) of 100 dpi and a maximum of 300 dpi.

How do you check the pixel size of your image?

1. Right-click on the image (or, on a Mac, control-click).

2. Choose Properties or Get Info.

3. Click the Details tab. (or, on a Mac, More Info).

4. You'll see the image dimensions in pixels.
Dimensions

Puzzle overall: 12.75" x 16"

Puzzle Pieces: approx. 1.50" to 2.50"

Box size: 10"x 8" x 1.875"
Materials

Puzzle: 100% recycled premium blue puzzle board

Box: 100% recycled chipboard

Shipping material: curbside recyclable
Share
View full details
Custom Photo Puzzles - Pro Puzzles
Welcome to our Pro Custom Puzzles world! We offer you a stock image database of over 140 Million images to choose from so you can browse for images by keywords or by themes and find your favorite high-resolution image for your custom picture puzzle!
Are you new to the world of custom jigsaw puzzles? Let us lead you now into the wondrous world of custom photo puzzles by starting off your journey with the 100 pieces picture puzzle. It is easy and every bit as fun as the bigger puzzles.
Seeing as it is easy to solve and very durable larger pieces, it is the perfect fit for children. Get them in on taking on challenges. This will help them acquire valuable life skills like patience, attention to detail as well as impeccable fine motor skills.
Pro Custom Puzzle Highlights
All our custom picture puzzles come in a professional semi-matte print finish.
140 Million Images for you to choose from
Browse by keyword or themes and find your favoite image
Puzzle size: approx. 12-3/4" x 16"
Puzzle piece size: 1-1/2" to 2-1/2"
Custom Puzzles by MakeYourPuzzles
All our custom puzzles are Made in USA and we only use eco-friendly materials. From 100% recycled premium puzzle board, eco-friendy inks to curbside recyclable packaging.
Recently we introduced bio-degradable plastic puzzle bags so our custom photo puzzles are a eco-friendly products from start to finish.
Making puzzles from pictures never has been easier - with a few clicks of a button you can make your own photo puzzles in minutes.
Make your own custom picture puzzle today!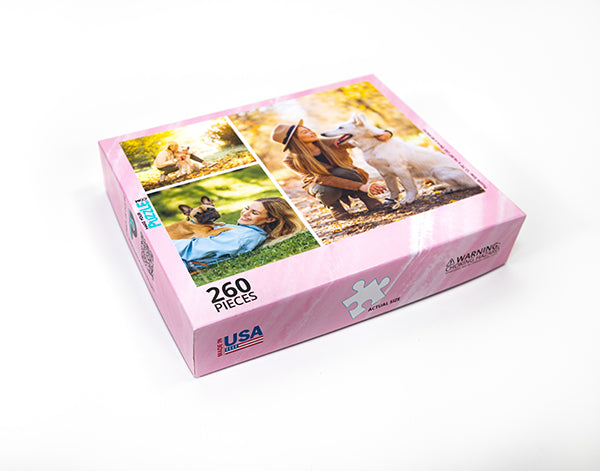 Custom Puzzle Box
Included with every puzzle order is a sturdy customizable storage box. Your puzzle image is printed on the top of the box lid and our customizer will allow you to add any message you would like.
We offer a wide selection of different box designs - check them out!
Learn More
Premium Puzzle Quality
Premium Quality

At MakeYourPuzzle we only use 100% recovered Premium Blue Puzzle Board - when die cut, the layers of the board remain tightly fixed in place and guarantees your puzzle remains intact for years to come. Our digital printing process ensures the highest print quality and the colors will not fade over time.

Eco-Friendly Product

We only use 100% recycled premium puzzle boards which are eco-friendly and sustainable.We use the latest cutting & printing technology. Our inks are eco-friendly, and we aim to reduce packaging to a minimum. Our packaging is bio-degradable and 100% curbside recyclable.