Regular price
$59.99
Sale price
$36.99
Unit price
per
Sale
Sold out
Picture Specification Guide

The higher the resolution, the better the quality of your printed photo puzzle.


100 and 260 piece puzzle: minimum 1600 pixels in length.

500 and 1000 piece puzzle: 2600 pixels in length.

We recommend a minimum dpi (dots per inch) of 100 dpi and a maximum of 300 dpi.

How do you check the pixel size of your image?

1. Right-click on the image (or, on a Mac, control-click).

2. Choose Properties or Get Info.

3. Click the Details tab. (or, on a Mac, More Info).

4. You'll see the image dimensions in pixels.
Dimensions

Puzzle overall: 12.75" x 16"

Puzzle Pieces: approx. 1.25" to 1.375"

Box size: 10"x 8" x 1.875"
Materials

Puzzle: 100% recycled premium blue puzzle board

Box: 100% recycled chipboard

Shipping material: curbside recyclable
Share
View full details
Puzzles have always been a timeless way to challenge our minds and enjoy hours of entertainment. But what if you could make that experience even more personal? Enter the 252 piece custom picture puzzle, a unique blend of personal touch and just the right level of challenge.
Puzzle Highlights
Picture Puzzle Size: 14" x 19-1/4"
Puzzle Pieces Size:

 

 

1-1/16" x 1.00"

Premium Puzzle Board: real blue ESKA puzzle board; 100% recycled
Sturdy Customizable Puzzle Gift Box included
Free Shipping on all picture puzzle orders in the U.S.
Eco-Friendly Puzzle production and packaging
Highest Quality Made in the USA
Perfect Size compared to a 200 piece puzzle and the 300 piece puzzle
The custom 252 piece photo puzzle strikes the perfect balance for puzzle enthusiasts looking for a personalized challenge. While the photo puzzle 200 pieces might be ideal for beginners or those seeking a quicker assembly experience, it may lack the intricate challenge many desire. On the other hand, the 300 piece puzzle can sometimes feel overwhelming and time-consuming, especially for those who are relatively new to the world of jigsaws. This makes the 252 piece option a golden middle ground. It offers just the right level of complexity, ensuring hours of engaging fun without the potential frustration of too many pieces. If you're searching for the best choice in customized picture puzzles, the 252 piece variant undoubtedly stands out as the top contender.
Ideal Complexity for Puzzle Enthusiasts
For those who find the 200 piece puzzle a tad too easy, yet aren't ready to dive into the deep end with the 300 piece puzzle, the 252 piece puzzle hits the sweet spot. It's challenging enough to keep you engaged, yet not so daunting that you'd feel overwhelmed. 
Perfect Balance Between Challenge and Fun
With 252-pieces, you have ample room to enjoy the intricate designs and vibrant colors of your photo puzzle, making the assembly process a delightful experience.
Unique Personal Touch with Personalized Photos
What sets this puzzle apart is the ability to customize it with your own photos, turning cherished memories into a fun activity.
How to Create Your Personalized Puzzle
Selecting the Perfect Photo
The photo selection for your customized puzzle is crucial to ensure a delightful assembly experience. The chosen image should be of high resolution to ensure clarity and vibrancy when printed. Consider the emotions or memories you want to evoke: landscapes can offer a serene challenge, while family portraits bring warmth and nostalgia. It's also essential to think about the composition; images with distinct color contrasts or patterns can make the puzzle-solving process more engaging. Ultimately, the perfect photo should resonate personally, turning your puzzle into not just a game, but a cherished memory piece. Simply upload a photo and start designing your 252-piece custom personalized picture puzzle.
Customization Options
Customization of Your Puzzle elevates the personal touch, transforming a simple game into a unique keepsake. One of the standout features is the ability to add text or messages to the customized puzzle. Whether it's a heartfelt note, a memorable date, or a quirky caption, the text field is free-floating, allowing you to choose its font, colors, and position to perfectly complement your photo. While this step is entirely optional, it adds a layer of sentiment to the puzzle. Beyond text, you can also embellish your design with other elements such as clip-arts, further enhancing the visual appeal and making your unique puzzle truly one-of-a-kind.
Placing Your Order
Place Your Order with confidence and ease. Before finalizing, you'll have the opportunity to preview your puzzle design, ensuring every detail aligns with your vision. Once satisfied, follow the simple checkout process to secure your personalized puzzle. After placing your order, MakeYourPuzzles will promptly send you an order confirmation along with an estimated delivery date via email. Rest assured, our commitment to quality and efficiency means your customized puzzle will be in production for a maximum of 3 working days before it's on its way to you.
Why A Custom Photo Jigsaw Puzzle Makes A Great Gift

In a world inundated with digital interactions and fleeting moments, customized jigsaws stand out as a tangible and heartfelt gift option. A personalized picture puzzle will be the perfect gift for any puzzle lover. Great addition for family game night or as gifts for grandparents, kids, or friends!
Memorable Moments Captured: Unlike generic store-bought puzzles, a customized puzzle immortalizes a special moment, be it a wedding day, a family reunion, or a serene vacation spot. Every piece assembled brings back a flood of memories, making the experience deeply personal and nostalgic. A picture puzzle is the perfect gift for any occasion.

Suitable for All Ages: The beauty of customized picture puzzles lies in their universal appeal. Whether you're gifting it to a child who's just discovering the joys of jigsaws or a grandparent who relishes the challenge, it's a gift that transcends age. The personal touch ensures that it resonates with the recipient, regardless of their puzzle-solving expertise.

A Gift for Every Occasion: The versatility of personalized puzzles makes them apt for a myriad of occasions. Birthdays, anniversaries, holidays, or even as a 'just because' gift, they fit the bill perfectly. They're especially poignant for milestones like graduations or retirements, offering a tangible piece of a cherished past.

Interactive and Engaging: In an age where most gifts are passive or consumable, a customized puzzle invites interaction. It's a gift that encourages the recipient to engage, think, and reminisce, making the gifting experience more meaningful.

Unique and Thoughtful: A customized jigsaw puzzle speaks volumes about the giver's thoughtfulness. It shows that you took the time to select a special photo and customize it, making the recipient feel truly valued.
In essence, custom jigsaws are more than just games; they're keepsakes. They offer a blend of challenge, nostalgia, and personal touch, making them an unmatched gifting choice. A picture puzzle is the perfect gift and a great addition to family fun or just by yourself!
Our 252 Piece Puzzles Are The Perfect Kids Puzzle Size
Got kids? Planning a party or already in the holiday spirit? Our 252-piece puzzle is the ultimate kids puzzle extravaganza. With larger pieces that are a cinch for tiny hands to grip, these puzzles make any day a jigsaw joyride. Perfect as a portrait puzzle, you can turn your favorite snapshots into interactive family fun. Looking for a quick yet captivating activity? This puzzle size ticks all the boxes. Browse through our stellar range of products and make your day even more special with our 252-piece puzzles.
Why Choose 252-Piece Puzzles?
Easy for kids to assemble
Fab for parties and holidays
Quick fun that lasts
Best for making portrait puzzles
Final Thoughts
In conclusion, the custom 252-piece puzzle makes a wonderful gift and offers a unique blend of personalization and challenge, making it the ideal choice for both gifting and personal enjoyment. Whether you're a puzzle novice or a seasoned enthusiast, this puzzle size promises hours of fun and a beautiful end result. Are you ready for the next challenge? Check out our 252 or 500 piece puzzle today - Save up to 43% + Free Shipping on all orders in the U.S.  
If you have multiple favorite images, don't worry, we've got you covered! Check out the Photo Collage Collection, offer you 96+ collage templates!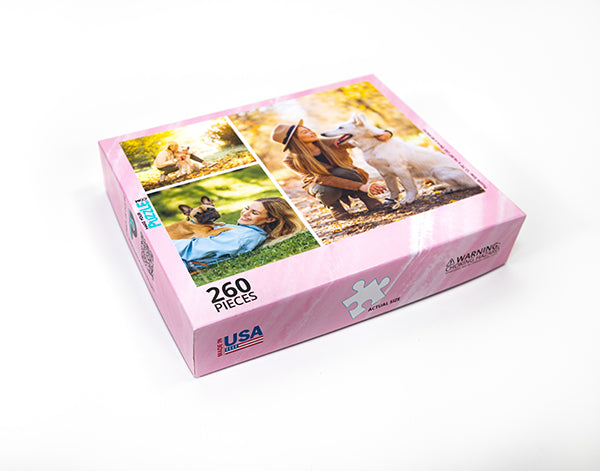 Custom Puzzle Box
Included with every puzzle order is a sturdy customizable puzzle box. Your puzzle image is printed on the top of the box lid and our customizer will allow you to add any message you would like.
We offer a wide selection of different box designs - check them out!
Learn More
Premium Quality | Eco-Friendly | Made in the USA
PREMIUM CUSTOM PUZZLES

At MakeYourPuzzle we only use 100% recovered Premium Blue Puzzle Board - when die cut, the layers of the board remain tightly fixed in place and guarantees your puzzle remains intact for years to come. Our digital printing process ensures the highest print quality and the colors will not fade over time.

ECO-FRIENDLY PRODUCT

We only use 100% recycled premium puzzle boards which are eco-friendly and sustainable.We use the latest cutting & printing technology. Our inks are eco-friendly, and we aim to reduce packaging to a minimum. Our packaging is bio-degradable and 100% curbside recyclable.
Check out our Collage Photo Puzzles
Choose from 96+ Collage Templates working with up to 64 images per puzzle.