Regular price
$59.99
Sale price
$36.99
Unit price
per
Sale
Sold out
Picture Specification Guide

The higher the resolution, the better the quality of your printed photo puzzle.


100 and 260 piece puzzle: minimum 1600 pixels in length.

500 and 1000 piece puzzle: 2600 pixels in length.

We recommend a minimum dpi (dots per inch) of 100 dpi and a maximum of 300 dpi.

How do you check the pixel size of your image?

1. Right-click on the image (or, on a Mac, control-click).

2. Choose Properties or Get Info.

3. Click the Details tab. (or, on a Mac, More Info).

4. You'll see the image dimensions in pixels.
Dimensions

Puzzle overall: 12.75" x 16"

Puzzle Pieces: approx. 1.25" to 1.375"

Box size: 10"x 8" x 1.875"
Materials

Puzzle: 100% recycled premium blue puzzle board

Box: 100% recycled chipboard

Shipping material: curbside recyclable
Share
View full details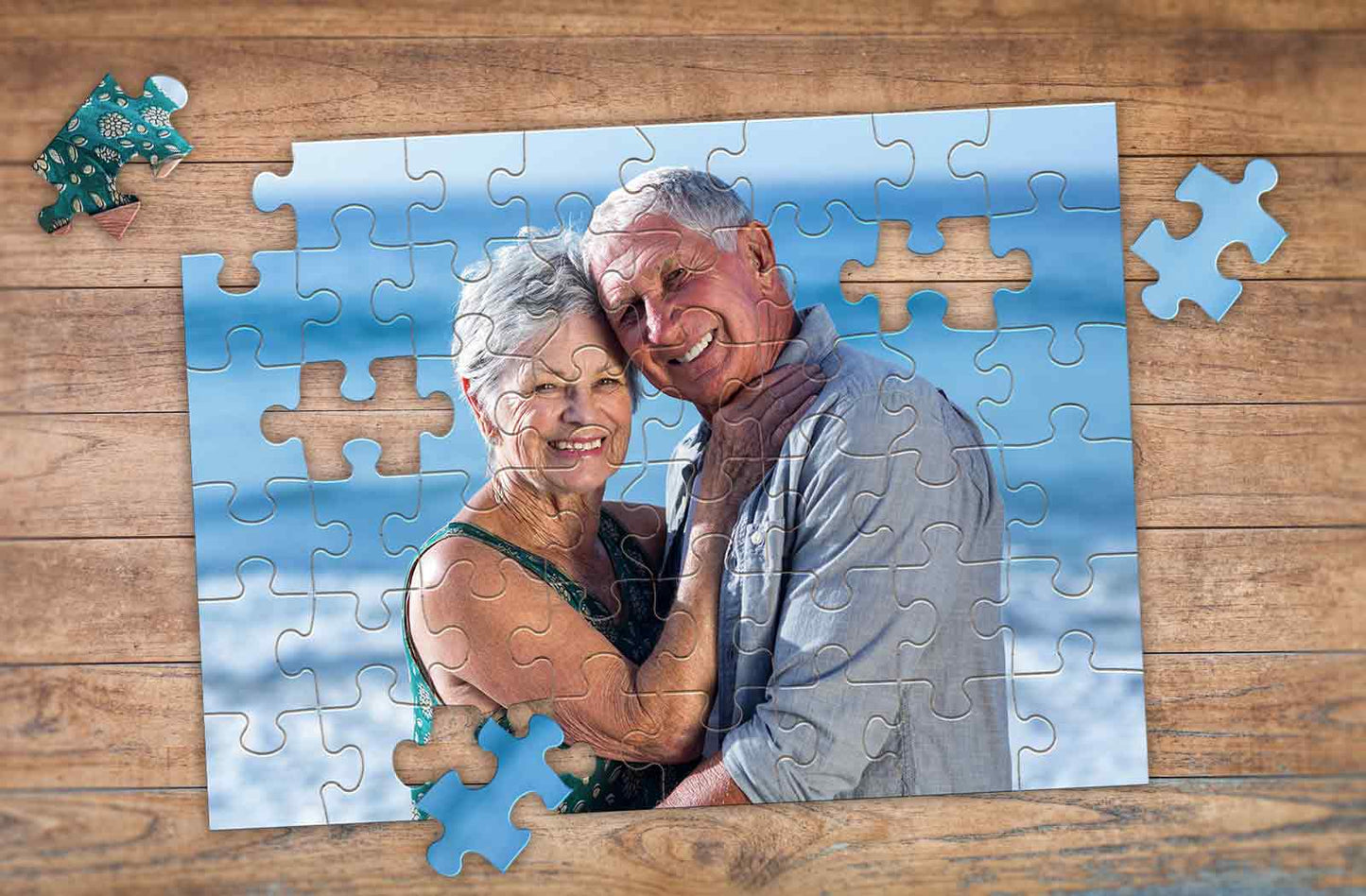 Welcome to a world full of infinite possibilities with MakeYourPuzzles. We are here to revolutionize the way you perceive puzzles. Our highly captivating 48 Piece Custom Puzzle brings an element of fun, personal touch, and deeper engagement. With Personalized Photo Puzzles, you get to recreate memories while exercising your mind. Our distinctively crafted Photo Puzzle Pieces in Jigsaw Puzzle ensures each piece finds its perfect place, much like the cherished memories in our lives. MakeYourPuzzles offers you a unique approach to combine creativity, personalization, and brain exercising. Let's unlock those hidden doors of cherished recollections together.

Large Puzzle Pieces

Step right up and meet the newest star in our puzzle galaxy—the 48-piece photo puzzle from MakeYourPuzzles! This isn't just another puzzle; it's a carefully designed experience tailored to different needs.
For Beginners:
New to puzzles? Say hello to our 48-piece photo puzzle! The large puzzle piece size is your best friend here. It's easier to spot where each piece goes, making your first foray into puzzling a breeze. It's like learning to ride a bike with training wheels—you'll get the hang of it in no time!
For Kids:
Hey kiddos, this one's for you! Our 48-piece puzzle isn't just fun; it's also educational. The large piece size makes it easier for little hands to grasp and maneuver. It's like building blocks, but with a picture-perfect outcome!
For Seniors:
Golden years, meet your new favorite pastime. Our 48-piece puzzle comes with large-sized pieces that are not only easy to see but also easy to handle. No more squinting or fumbling. It's a gentle yet engaging activity that respects your comfort and capabilities.
So, no matter your age or skill level, the large piece size of our 48 Piece Photo Puzzle makes it the go-to choice for a satisfying, stress-free puzzling experience!
Customize Your Photo Puzzle - Create a Unique Photo Puzzle
Create a unique, personalized memento with MakeYourPuzzles' custom jigsaw puzzle. Using your favorite photo or design, we bring your images to life in a custom 48-piece picture puzzle. This exceptional gift will leave a lasting impression and provide hours of entertainment for kids and adults alike. The view of a treasured memory artfully composed into a puzzle offers an original, interactive experience.
Turning your photos into a custom puzzle is easy. Simply choose the size, upload your image, and let us handle the rest. Our 48-piece jigsaw puzzles are the perfect size for an engaging yet manageable puzzle-solving experience. Whether you're assembling a vibrant family photo or a cherished moment captured on film, each piece of your custom puzzle offers a satisfying fit and a nostalgic view of a memory.
Our custom puzzles offer you the freedom to create a unique puzzle with your favorite photos. We then transform them into a high-quality jigsaw puzzle, skillfully crafted to ensure a perfect fit. Each piece of our 48-piece puzzle is meticulously designed to deliver a stunning image display once completed. The satisfaction of placing the final piece of a photo puzzle can't be overstated, and the result is a beautiful keepsake that can be enjoyed time and time again. It's a custom personalized gift that truly keeps on giving.
Quality and customer satisfaction are our top priorities at MakeYourPuzzles. Every custom puzzle we create is inspected for quality, guaranteeing you'll have an excellent puzzle experience every time. Choose MakeYourPuzzles to ensure you get the highest quality, best fitting, and most fun 48 piece puzzle to enjoy.
MakeYourPuzzles not only provides an exceptional product but also offers convenient shipping options. Whether it's a last-minute gift or a planned surprise, we ensure that your custom jigsaw puzzle reaches you safely and in time. When it comes to gifts, it's not just the thought that counts—it's the delivery as well.
In a world where digitization is ever-present, there's still a distinct appeal in possessing physical reminders of our treasured moments. A custom jigsaw puzzle from MakeYourPuzzles does exactly that—it helps us preserve an important moment in a distinct and engaging form.
From Photos to Fun: Personalized Jigsaw Puzzles for the Perfect Gift
The art of creating personalized puzzles is a thoughtful and innovative way to turn your cherished photos into fun. At MakeYourPuzzles, we understand the importance of preserving memories, and we ensure every piece of our custom photo puzzles reflects your fond moments. Whether it's a picture of your children at their happiest moment, a commemorative photo of a significant event, or an image that evokes nostalgia, we're here to help you immortalize them in the form of a 48-piece puzzle.
Customizing photo puzzles has never been easier thanks to our state-of-the-art design platform that allows you to create puzzles in a way not previously possible. You're not just piecing together arbitrary puzzle pieces; you are weaving together the dainty threads of life's worthwhile moments. It's quite simple to use, all you need to do is upload your chosen photo, select the preferred puzzle size, and leave the rest to us. In just a few days, your custom jigsaw puzzle will be ready for you to enjoy.
Our 48-piece puzzles serve as excellent gift ideas for both children and adults. They add a touch of personal touch and offer an exciting challenge to the recipient. If you have been looking for unique and personalized gifts for birthdays or other special occasions, then a custom photo puzzle fits the bill perfectly. The suspense and excitement of piecing together puzzle pieces to reveal a treasured photo image make our puzzles a gift that keeps on giving.
Moreover, our puzzles are not only about fun; they also provide educational value to children. Puzzles are known to improve cognitive skills, problem-solving abilities and aid in the development of hand-eye coordination. Our custom puzzles provide an exciting way for your children to learn and have fun at the same time.
Remember, it's not just a jigsaw puzzle; it's a journey that takes you down memory lane. It is a story told through assembled puzzle pieces, each holding a charm and memory of its own. So why not transform your photos into a fun and interactive experience with a personalized photo puzzle from MakeYourPuzzles? Order yours today and let the fun begin.
In here at MakeYourPuzzles, we are committed to ensuring every detail of your photo is captured with precision. The final product is a high-quality jigsaw puzzle that is equally as impressive as the photo itself, with each puzzle piece a testament to our dedication to quality and perfection.
At MakeYourPuzzles, we believe that the joy of relishing old memories and creating new ones should never end. That's why we are here to help you create fun experiences while cherishing precious moments. Turn your favourite photos into premium pieces of custom puzzles and enjoy the art of piecing together the good times. Experience the joy of gifting with our ranges of personalized puzzles that make for perfect gifts for your loved ones on any occasion.
The Thrill of the Jigsaw Puzzle: An Engaging 48 Piece Challenge
In the world of puzzles, nothing matches the excitement and challenge of a jigsaw puzzle. MakeYourPuzzles brings to you an engaging 48 piece challenge that will captivate everyone involved. Fun, engaging, and stimulating, the 48 piece jigsaw puzzle offers an enriching activity that stimulates both the young and old. Designed meticulously, each piece contributes to the larger image that's starting to form. This is exactly what makes jigsaw puzzles so intriguing.
MakeYourPuzzles takes it a step further by offering you the ability to create your own custom puzzle. A personalized jigsaw puzzle that captures your favorite image. Imagine the thrill of assembling your favorite memory, piecing together a cherished photograph, or significant image. Our custom puzzle process is simple and straightforward. With just a few clicks, you can transform any image into a jigsaw puzzle. It's the perfect way to keep your kids engaged in a fulfilling activity.
A puzzle such as the 48 piece jigsaw is an excellent tool for developing various skills in children. As kids manipulate different pieces, they enhance their fine motor skills and promote their hand-eye coordination. Their cognitive abilities are honed as they solve the puzzle while their emotional skills are fostered as they learn patience and are rewarded upon completion. But the fun isn't limited just to kids. Adults also experience joy and satisfaction in completing puzzles, making it a great family activity.
At MakeYourPuzzles, the quality of our puzzles is paramount. We ensure each piece of our puzzles fits perfectly. The joy of fitting together pieces of a jigsaw puzzle is unparalleled and we want to provide you with the highest quality products that amplify this joy. Our 48 piece puzzles have the right-size pieces that are safe for kids, yet challenging enough for adults.
The beauty is in the details, and our custom 48 piece jigsaw puzzles capture the minutiae of your chosen image beautifully. The resulting picture puzzle will be a brilliant reminiscence of your favorite image. Plus, these personalized photo puzzles can be a thoughtful and unique gift idea. Custom puzzles allow you to share a special image with someone in a unique and interactive way.
Embrace the thrill of jigsaw puzzles with MakeYourPuzzles' 48 piece custom puzzle. Our quality pieces, attention to detail, and commitment to creating a fun, enjoyable experience ensure you'll have hours of fun piecing together your own custom jigsaw puzzles. Whether you're a kid, a kid at heart or looking for a unique gift idea, consider customizing a 48 piece photo puzzle. It's more than just a puzzle, it's an experience!
Jigsaw Puzzles With Custom Pieces: Picture Puzzle That Fits Your Size
Discover a world of fun and creativity with our 48-piece custom puzzles. At MakeYourPuzzles, we believe in creating enduring memories, not just products. Let us transform your favorite image into a beautiful piece of art that you can construct time and time again. Our jigsaw puzzles are more than toys; they are experiences. Expect hours of entertainment and equal parts challenge and triumph while fitting together the personalized puzzle pieces photo by photo.
When you design a custom puzzle with us, you make a unique statement. Don't be boxed in by standard sizes and generic image selections. Our jigsaw puzzle allows for a touch of personality and creativity. Choose the picture puzzle that fits your size preferences, whether it's for children or grown-up puzzle enthusiasts. We take pride in delivering high-quality puzzles that stand the test of time.
Handcrafted jigsaw puzzles mean every custom puzzle piece carries a hint of your chosen image and forms a part of a bigger picture—a truly personalized approach. If you're looking for a thoughtful gift, our photo puzzle ticks all the boxes. Not only does it cater to a wide range of ages and interests, but it's also the kind of gift that keeps on giving as it can be built and displayed indefinitely. Plus, our quick and efficient shipping ensures it's delivered right on time for that special occasion.
A custom jigsaw puzzle is more than just a pastime—it's a means to celebrate cherished memories. From family pictures to pet photos and vacation landscapes, you can transform any image into a puzzle. Best yet, we ensure that every custom puzzle highlights the beauty of your chosen images. The vibrancy of colors and sharpness of the picture makes putting together the puzzle pieces a true delight. Yes, the custom jigsaw puzzles we craft at MakeYourPuzzles not only pay homage to precious moments but also offer an engaging challenge to reconnect with those memories piece by piece.
Getting started with your design is simple. Upload your chosen photo, select the perfect size, and we handle the rest. We know just how valuable your memories are, so we make sure to handle every image with care. Rest assured, your custom photo puzzle will bring not only relaxation but a sense of accomplishment. We're here to make your jigsaw puzzle experience exceptional right from the design process until the moment you fit the final piece.
Connect piece by piece, photo after photo in an exercise of patience, strategy, and joy. Our puzzles are made from high-quality materials to ensure durability and a smooth finish. Whether you're an amateur or a seasoned veteran, these personalized jigsaw puzzles promise endless hours of fun. Let your custom masterpiece take shape as you piece together a wonderful memory. Remember, every picture tells a story and every puzzle put together is an adventure relived. At MakeYourPuzzles, we make sure that journey is always enjoyable and satisfying. So, go ahead, design your custom puzzle, and make your puzzle pieces count. After all, it's all about the memories you create.
In conclusion, a 48-Piece Custom Puzzle from MakeYourPuzzles offers an exceptional, personalized experience with the cherished art of jigsaw puzzles. It's a unique canvas for your favorite photos, transforming them into interactive family fun. The personalized photo puzzles not only provide a therapeutic mental challenge but also myriad opportunities to create beautiful memories. Discover the joy of piecing together a work of art with our Photo Puzzle Pieces in Jigsaw Puzzle. Begin your journey with MakeYourPuzzles today, and relish the delight of creation and completion, one piece at a time.
FAQs 
What is MakeYourPuzzles' Custom Puzzle?
MakeYourPuzzles' Custom Puzzle offers a unique way to recreate cherished memories. Using a selected photo or design, we transform it into a captivating 48-piece jigsaw puzzle. This personalized puzzle allows for deeper engagement and is perfect for kids and adults alike.
How can I create a custom puzzle with MakeYourPuzzles?
The process is simple and easy. Choose the puzzle size, then upload the image you want to transform into a puzzle. We handle the rest, delivering a high-quality, custom jigsaw puzzle right to your doorstep.
What quality can I expect of my custom puzzle from MakeYourPuzzles?
Quality is our top priority. Each custom puzzle is thoroughly inspected to ensure excellent puzzle-making experience. We guarantee a perfect fit for each piece, a vivid image display, and a durable keepsake to be enjoyed repeatedly.
What is the educational value of MakeYourPuzzles' custom puzzles?
Beyond the fun and personalization, our puzzles are also educational. They are known to improve cognitive skills, problem-solving abilities, and enhance hand-eye coordination. This makes them exceptionally beneficial for children's development.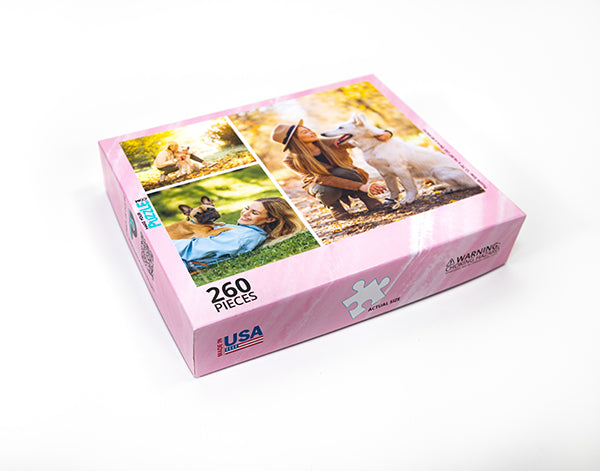 Custom Puzzle Box
Included with every puzzle order is a sturdy customizable puzzle box. Your puzzle image is printed on the top of the box lid and our customizer will allow you to add any message you would like.
We offer a wide selection of different box designs - check them out!
Learn More
Premium Quality | Eco-Friendly | Made in the USA
PREMIUM CUSTOM PUZZLES

At MakeYourPuzzle we only use 100% recovered Premium Blue Puzzle Board - when die cut, the layers of the board remain tightly fixed in place and guarantees your puzzle remains intact for years to come. Our digital printing process ensures the highest print quality and the colors will not fade over time.

ECO-FRIENDLY PRODUCT

We only use 100% recycled premium puzzle boards which are eco-friendly and sustainable.We use the latest cutting & printing technology. Our inks are eco-friendly, and we aim to reduce packaging to a minimum. Our packaging is bio-degradable and 100% curbside recyclable.
Check out our Collage Photo Puzzles
Choose from 96+ Collage Templates working with up to 64 images per puzzle.