Regular price
$75.99
Sale price
$42.99
Unit price
per
Sale
Sold out
Picture Specification Guide

The higher the resolution, the better the quality of your printed photo puzzle.


For 500 and 1000 piece puzzles, we recommend 150dpi and 2888 x 3994 pixels

We recommend a minimum dpi (dots per inch) of 100 dpi and a maximum of 300 dpi.

How do you check the pixel size of your image?

1. Right-click on the image (or, on a Mac, control-click).

2. Choose Properties or Get Info.

3. Click the Details tab. (or, on a Mac, More Info).

4. You'll see the image dimensions in pixels.
Dimensions

Puzzle overall: 19.25" x 26.63"

Puzzle Pieces: approx. 0.375" to 0.50"

Box size: 10"x 8" x 1.875"
Materials

Puzzle: 100% recycled premium blue puzzle board

Box: 100% recycled chipboard

Shipping material: curbside recyclable
Share
View full details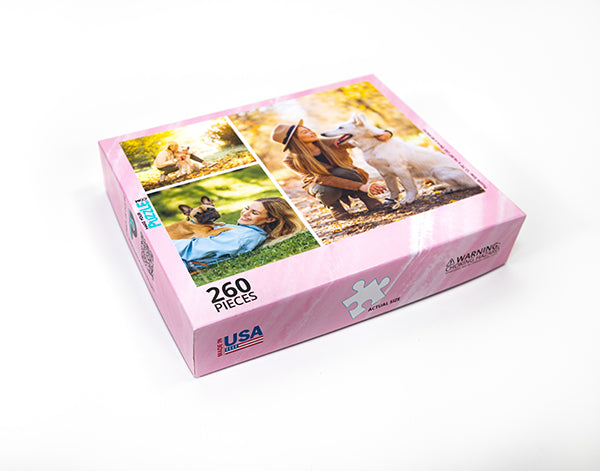 Custom Puzzle Box
Included with every puzzle order is a sturdy customizable storage box. Your puzzle image is printed on the top of the box lid and our customizer will allow you to add any message you would like.
We offer a wide selection of different box designs - check them out!
Learn More
Let Us Introduce Our Bestseller
A picture, they say, is worth 1000 words so let our custom 1000 pieces puzzle take you on a journey, a thrilling, satisfying journey. Piece these together and prove you are a pro puzzler.
Our 1000 piece custom puzzle provides a challenging and fun activity for you. Goodbye to days of boredom and loneliness. Here are a thousand little companions for you.
It's a great way to make new memories with your family and friends. Bond over your custom photo puzzle and learn the valuable lesson of working as a team.
Jigsaw puzzles have been proven to make people happier so learn to enjoy little victories through the process, pending the fulfillment that accompanies seeing every piece in the right place.
Improve and enhance your cognitive abilities and a great way to get smarter while having so much fun! So, simply upload your favorite pictures and make your own custom photo puzzle today!
Personalized Puzzle Highlights:
Premium Puzzle Board and High-Quality Print
19-1/4" x 26-5/8" overall photo puzzle size
Customizable Puzzle Box included - Personalize your Puzzle Box!
Made in USA
Free Shipping on all orders in the U.S.
Save 44% Today
Why Customize Your Own Jigsaw?
You Get To Choose The Theme
There are truly some great stock puzzles out there, however, how cool is it to create your very own custom photo puzzles with pictures you can relate to. Choose a picture of your last vacation, your family, kids, or pets – the possibilities are endless! Memories will come back to life – making your own unique custom photo puzzle is easy and so much more fun to assemble!
You Decide How Easy Or Difficult You Want It To Be
The level of difficulty and time required may vary based on the uploaded photos. Rule of thumb is as more colorful your photos are, the easier the custom puzzle process seems to be. Take your time and don't rush, assemble the 1000 piece jigsaw puzzle together with your family, friends, partner or children and remember it is all about the fun!
If a photo puzzle 1000 pieces seems to be too big of a challenge, check out our other puzzle sizes: 100 piece custom jigsaw puzzle, 260 piece custom jigsaw puzzle or our 500 piece custom jigsaw puzzle.
How Can I Customize My Photo Jigsaw Puzzles?
Choose The Image Orientation
There is either horizontal or portrait orientation available within our custom puzzle maker. It depends on the layout of your picture you want to make a custom puzzle from.
You Can Choose Which Photo/Image To Use
This is truly the fun part; you can choose your favorite photo and make your custom puzzle with a few clicks of a button.  Involve your family, partner, or kids in this fun puzzle with the decision which photo will work best for your very own jigsaw puzzle. If you have more than 1 favorite photo, make your own Collage Photo Puzzle.
Customize It Even More Using Our Clipart Images
You finished uploading your picture and positioned it (or more than one) on the jigsaw puzzle layout – now can you still personalize the jigsaw puzzle itself further? At MakeYourPuzzles.com you can!
You can add your own text and modify the text fonts, color and appearance and you also can now add text and graphics from our clip-art library – as much as you want!
Be creative and make your own unique custom jigsaw puzzle as you see it fit best. Also, there are several image filters available – from black & white to vintage filters and everything in-between.
You Can Also Customize The Custom Photo Puzzle Box
At MakeYourPuzzles you can customize and personalize your puzzle box.  Choose from 30+ box designs – we organized these designs by categories such as Christmas, Love, Gradient Designs among others. Once you selected the box designs, you can start personalizing your puzzle box by adding your own text, images, or clip-arts (check out our clip-art library) and make it truly yours!
Learn more about our Customizable Puzzle Box.
Custom Jigsaw Puzzles: A Fun Activity for All Ages
Customized Puzzles for Kids - Learning Through Play
A Photo Puzzle 1000 piece aren't just for adults. They can also be a fun and educational activity for kids. For younger kids, consider a customized puzzle with fewer, larger pieces. You could use a picture of their favorite cartoon character, a family pet, or even a photo of themselves. Solving a puzzle helps kids develop fine motor skills, spatial awareness, and problem-solving abilities.
Personalized Puzzles for Adults - A Relaxing Hobby
For adults, puzzles are a great way to unwind and relax. They're a screen-free activity that requires focus and patience, providing a welcome break from the hustle and bustle of daily life. And with a 1000 piece personalized puzzle, the activity becomes even more meaningful and enjoyable.
The Bonding Experience of Solving Puzzles as a Family
Solving your jigsaw puzzles can be a wonderful bonding activity for families. It encourages teamwork, communication, and a shared sense of achievement. Plus, it's a great way to create new memories while piecing together old ones.
The Perfect Gift For Any Occasions
Why Customized Puzzles Make Great Gifts
Looking for a unique and thoughtful gift? Consider a photo puzzle 1000 piece. It's not just a gift, but an experience - one that the recipient can enjoy over time. It's perfect for birthdays, anniversaries, holidays, or just because.
Personalizing Your Puzzle Gift - Adding Text, Choosing the Box, etc.
To make your 1000 piece photo puzzle gift even more special, consider adding a personal touch. Some manufacturers allow you to add text (like a name or a special message) to the puzzle. You can also choose a box design it comes in.
The Surprise Element - Unveiling the Picture
One of the best things about giving a personalized puzzle as a gift is the surprise element. The recipient of photo gift won't know what the picture is until they've solved the puzzle. It's a gift that keeps them guessing and gives them a rewarding sense of accomplishment when they finally see the completed picture.
Different Types Of Custom Photo Puzzles
Also, it is important to explain the different types of the 1000 piece custom picture puzzles so you get a better understanding about all the pieces, layouts and possibilities in general.
We will lay out the requirements of the images you want to use so you will get the best results and answer some of the most common questions.
What Kind Of 1000 Piece Jigsaw Puzzle Can Be Customized?
Custom Photo Puzzle
Turn your favorite picture into a custom photo puzzle; it has never been easier to create your own premium custom puzzle – just select the puzzle size and picture orientation, upload your favorite image, and optionally add your text, clip-arts to the puzzle and let us do the rest. Within a few days you will receive your own Jigsaw Puzzles. From portrait puzzles to pet photo puzzles and everything in-between!
The "Classic" Custom Photo Puzzle works with one photo of your choice. If you have multiple favorite pictures and cannot decide which one to go with, check out our Collage Photo Puzzles! 
Collage Photo Puzzle
Do you want to share the best of pictures with your loved ones, but you cannot pick just one? Fret no more: with our collage photo puzzles, you can pick up to 64 photos to create a special photo gift, that will last a lifetime! Don't spend hours sifting through photos, stressing over the one perfect photo.
You can choose 2 or more photos to create a personalized collage jigsaw photo puzzle. Make a personal collage of your vacation pictures, wedding photos or snapshots from any special occasion to create a photo puzzle that will entertain your loved ones for years to come!
Do you want to create and upload a brilliant collage of photos to puzzle, but it all sounds too complicated? Wonderful news, with our easy navigation customizer, creating a custom collage is a snap! Choose one of our 96+ collage templates, working with between 2 to 64 images of your choice. Even low-resolution images will show up in great quality when placed as smaller images.
Pro Photo Puzzle
Have you ever thought about creating your own puzzle? Now, this isn't just about sending in your pictures to be made into puzzles.
We know how difficult it is to find high-resolution pictures to make the large personalized photo puzzles you want.
We know how you'd also like to use an image of your favorite Landscape, Sport, Park, Pets or City but don't know how to find them.
Are you bored with the limit to the stock-puzzles you have? Then, we bring to you the first of its kind; A catalog of high-resolution pictures to choose from and customize your puzzles. An image for every keyword. Every landscape. Every city. Welcome to our Pro Photo Puzzle world!
We will offer access to a 140 million high-resolution photo databases.
You can browse through different categories, search by keywords, and pick the image you love. You can also add your own texts to finalize the customization process for your own unique Pro Photo Puzzle.
Looking for a unique gift? Try a Custom Photo Puzzle!
In search of a gift that's a little different? Something personal, enjoyable, and full of surprises? You're in the right place! Custom photo puzzles are the answer. They're not just a gift, but an experience - a way to connect with loved ones, create new memories, and celebrate the good times. Let's explore how custom photo puzzles can be the ultimate gift for any occasion or celebration. Simply upload your favorite photo - we'll handle the rest!
Design Your Own Custom Photo Puzzle for Birthdays, Weddings, and Anniversaries
Birthdays, weddings, anniversaries - these are all about celebrating people and their stories. What better way to honor these special days than with a gift that's as unique as the person you're giving it to?
Imagine it's someone's birthday. Picture the joy on their face when they open up a custom puzzle box to find a photo of a memorable trip, their adorable pet, or a hilarious moment with friends. It's not just a jigsaw puzzle, it's a journey down memory lane.
For weddings and anniversaries, it's all about love and unity. A custom puzzle featuring a snapshot from the wedding, a favorite couple's photo, or a picture from a significant moment in their journey together makes for a heartfelt and romantic gift. As they piece together the photo puzzle, they're also piecing together those cherished memories.
Custom Photo Puzzles: Perfect for Holidays and Graduations
Holidays and graduations are big moments that bring families together, and custom photo puzzles can add a fun twist to these celebrations.
Think about holidays like Christmas, Thanksgiving, or Hanukkah. A custom puzzle with a family photo or a custom puzzle that captures your holiday traditions can bring an extra dose of festive fun. It's an activity the whole family can dive into, creating new holiday memories as they revisit old ones.
Graduations are a time of celebration and new beginnings. A custom puzzle featuring a graduation photo, a picture of the school, or an image that represents the graduate's dreams and aspirations can be a meaningful and motivational gift. It's a way to celebrate their hard work and cheer them on for their next adventure.
Craft Your Custom Photo Puzzle for Special Moments with Loved Ones
Life is a collection of special moments, and a custom photo puzzle is the perfect gift and a unique way to celebrate these times. Whether it's a family reunion, Mother's Day, a new baby, a well-earned retirement, or a memorable vacation, a custom photo puzzle lets you relive these moments in a fun and interactive way.
Imagine the joy of assembling a puzzle featuring a picture from a family reunion, each piece bringing a family member into the picture. Or the excitement of piecing together a custom photo puzzle of a newborn baby, each piece revealing a little more of that adorable face. These are the moments that make life special, and a custom photo puzzle helps you celebrate them in a unique way.
So there you have it! Personalized Photo Puzzles are more than just a gift. They're a personal, interactive, and fun way to celebrate life's special moments and milestones. So why not make your next gift a custom photo puzzle and create memories that will last a lifetime? It's a win-win!
Start Customizing Your Custom Jigsaw Puzzle Now!
It never has been easier to make your own jigsaw puzzle – our online puzzle maker software is easy to use and guides you through the entire personalization process – from uploading your images, checking for low resolution to customizing your puzzle box. In case you're experience any issues, please contact our customer service at info@makeyourpuzzle.com – we are happy to help and together we will solve the issue in no-time!
How Do I Know If A 1000 Piece Puzzle Is The Right Size For Me?
So, what size will work best for you? We offer multiple sizes and our recommendations are as follows:
100 pieces: Children 6-7 years old
260 pieces: Children 8-9 years recommended age & adults
500 pieces: Children 10+ & adults (5+ hours are often required)
1000 pieces: Children 10+ & adults (10+ hours are often required)
If you are new to the jigsaw puzzle world as an adult, we recommend starting with either a 260 or 1000 piece jigsaw, or 500 piece custom jigsaw puzzle.
MakeYourPuzzles - Quality Made in the USA
Our team has produced millions of premium stock puzzles for customers over the last number of years. Today, we produce Custom Puzzles with the same high-quality approach by utilizing our manufacturing and materials knowledge and our goal is to offer customers the best custom puzzles for the best price, Made in the USA.
All of our custom puzzles are 100% Made in the USA - from start to finish. We do not cut any corners by importing finished or half-finished goods.
By sourcing all of our materials, manufacturing the entire product portfolio we minimize the energy consumption overall, lessening the carbon footprint.
Our high quality printing equipment utilize only 100% eco-friendly ink and non-toxic.
Most importantly by doing so, we create and secure US jobs. We are a family owned company, taking care of our employees, their families, partners and supplier to the best of our abilities.
Eco-Friendly Custom Photo Puzzle - it can be done!
We love custom photo puzzles, but we also love our planet. That's why we're committed to making our puzzles as eco-friendly as possible. We use sustainable materials and processes wherever we can, and we're always looking for ways to reduce our environmental impact.
But our eco-friendly approach doesn't stop at our custom puzzle production processes. We also use minimal and recyclable packaging to keep waste to a minimum. So when you choose MakeYourPuzzles, you're not just getting a great custom puzzle - you're also doing your bit for the environment.
Conclusion
Our bestseller, the photo puzzle 1000 piece, allows you to recreate your favorite memories piece-by-piece as you assemble puzzle 1000 pieces of your custom jigsaw puzzle.
It is a challenging size but at the same time assembling will be a lot of fun, either by yourself or with a helping hand.
Making jigsaw puzzles from pictures never has been easier and with a few clicks of a button you can make your own custom photo puzzle in minutes.
Make your own 1000 Piece Puzzle today and save 44% + Free Delivery on all orders in the USA – only at MakeYourPuzzles.com.
FAQs
How Long Will It Take To Process An Order?
Once we receive your order, production time is 3 working days. If you order on a Monday, as an example, we will ship your order on Thursday the same week. Since we ship with UPS and USPS Priority only, you will receive your order within 2-5 days depending on your location.
We also offer Expedited Shipping for only $5.99 so your order will be delivered within 2 business days. Not fast enough? No problem, we can overnight your order for only $29.99.
What Are The Size Of The Puzzle Pieces In A 1000 Piece Puzzle?
Since our puzzle dies are a hybrid of the traditional ribbon cut and a random cut, the puzzle pieces vary and are between 3/8" to 1/2" for the 1000 piece custom picture puzzle.
How Long Does It Take The Average Person To Do A 1000 Piece Puzzle?
Assembling a 1000 piece puzzle can take anywhere from several hours to several days, depending on several factors such as your puzzle-solving experience, the complexity of the puzzle design, and the amount of time you are able to dedicate to the task.
Some experienced puzzle solvers can complete a 1000-piece puzzle in a matter of 3-8 hours, while others may take several days to complete it. Additionally, if you are working on the puzzle with others, the time it takes to complete it may be shorter as you can divide the work among yourselves.
What image file formats can be processed?
We can process JPG (jpg, jpeg), PNG, GIF and SVG formats. Most digital cameras automatically take pictures in the required JPG format! If you have any other formats, please contact us and we will make it work. Our customer service can be reached at info@makeyourpuzzle.com
Check out our Collage Photo Puzzles
Choose from 96+ Collage Templates working with up to 64 images per puzzle.
Premium Quality | Eco-Friendly | Made in USA
PREMIUM CUSTOM PUZZLES

At MakeYourPuzzle we only use 100% recovered Premium Blue Puzzle Board - when die cut, the layers of the board remain tightly fixed in place and guarantees your puzzle remains intact for years to come. Our digital printing process ensures the highest print quality and the colors will not fade over time.

ECO-FRIENDLY PRODUCT

We only use 100% recycled premium puzzle boards which are eco-friendly and sustainable.We use the latest cutting & printing technology. Our inks are eco-friendly, and we aim to reduce packaging to a minimum. Our packaging is bio-degradable and 100% curbside recyclable.