Regular price
$69.99
Sale price
$39.99
Unit price
per
Sale
Sold out
Picture Specification Guide

The higher the resolution, the better the quality of your printed photo puzzle.

For 500 and 1000 piece puzzles, we recommend 150dpi and 2888 x 3994 pixels.

We recommend a minimum dpi (dots per inch) of 100 dpi and a maximum of 300 dpi.

How do you check the pixel size of your image?

1. Right-click on the image (or, on a Mac, control-click).

2. Choose Properties or Get Info.

3. Click the Details tab. (or, on a Mac, More Info).

4. You'll see the image dimensions in pixels.
Dimensions

Puzzle overall: 19.25" x 26.63"

Puzzle Pieces: approx. 1.00" to 1.50"

Box size: 10"x 8" x 1.875"
Materials

Puzzle: 100% recycled premium blue puzzle board

Box: 100% recycled chipboard

Shipping material: curbside recyclable
Share
View full details
Lasting Memories With A Custom Puzzle From Photo
Are you ready for an adventure? That's what you get with our custom puzzles 500 piece. This is the perfect choice for a photo puzzle lover. Even though it is not as difficult as the 1000 pieces photo puzzle, it is every bit as captivating and entertaining.
Perhaps you're looking for a thoughtful and personalized photo puzzle? This 500 Piece Photo Puzzle would be great for any occasion and will be a very special gift for your loved ones or for yourself!
It is a good fit for those who enjoy solving puzzles but still don't feel up for the 1000 pieces personalized puzzle. Put your puzzling skills to work with this as you advance towards pro puzzler status.
Enhance your fine motor skills with puzzles and train yourself to be patient and attentive to details. Make your own puzzle today!
Highlights 500 Piece Photo Puzzle
Custom Photo Puzzle Size: 19-1/4" x 26-5/8"
Custom Photo Puzzle Piece Size: 1-1/2" to 2-1/2"
Custom Jigsaw Puzzle Board: Blue Premium .7pt ESKA Puzzle Board
Highest Image Quality - vibrant fade resistant colors
Free Shipping on all jigsaw puzzle orders in the USA
Eco-Friendly - all our photo puzzles are eco-friendly products
Premium Customizable Puzzle Box included
What Is A Custom 500 Piece Jigsaw Puzzle?
If you're considering a custom 500 piece puzzle, you're in for a treat. This isn't just any ordinary puzzle - it's a unique, personalized piece of art that's crafted just for you.
Here's how it works: You choose a photo or image that holds special meaning for you. It could be a cherished family portrait, a snapshot from your favorite vacation, a cute picture of your pet, or any other image that you love. You then upload this image to our website.
We take it from there. We print your chosen image onto high-quality material, then precision-cut it into 500 interlocking puzzle pieces. This process ensures that your puzzle will not only look fantastic, but also provide a satisfying challenge to assemble.
Once your puzzle arrives, you (or a lucky gift recipient) can enjoy the process of piecing together the image, bit by bit. It's a fun and engaging activity, and when you're done, you'll have a beautiful, personalized keepsake.
So why not give it a try? A custom puzzle 500 pieces is more than just a puzzle—it's a memory, a conversation piece, and a work of art, all in one package. We can't wait to help you create yours!
Why Choose A Custom 500 Piece Puzzle?
Our 500-Piece Puzzle is loved by beginners as well as pro puzzlers! The overall puzzle size at 19-1/4 x 26-5/8 is identical to our 1000 piece custom puzzle, and therefore the puzzle piece size is larger compared to our bestseller the 1000 Piece Custom Photo Puzzle.
Ideal For Advanced Puzzlers
The standard 500 piece photo puzzle size is 16" x 20"' and most US retailers carry this standard size only; however, our custom 500 Piece Custom Jigsaw Puzzle is 19-1/4" x 26-5/8" overall and therefore the individual puzzle pieces are larger and easier to assemble compared to our 1000 Piece Custom Photo Puzzle. Larger puzzle pieces but maintaining the overall puzzle of 19-1/4 x 26-5/8 size is perfect for advanced puzzlers and guarantees as lot of fun!
Great Puzzle Size For Pros
While the puzzle pieces are larger compared to our bestseller the 1000 piece custom puzzle, it still is a challenge to complete our 500 Piece Personalized Puzzle even for Pros. Most importantly our 500 Piece Custom Puzzle provides a lot of fun and the memories will last for years to come. Once completed, why don't you frame your own puzzle, hang it on the wall and enjoy your personalized puzzle every day!
Perfect Puzzle Size For Children
Assembling the 500 Piece Jigsaw will not take days or weeks and can be finished within 4-10 hours so it's not overwhelming for any teenagers. It is a perfect size for teenagers who never assembled a puzzle before and most certainly for advanced and pro teenage puzzlers! The fun starts already by designing their own puzzle online using one of their favorite pictures and within a couple of days they can start assembling their very own puzzle at home.
How Can I Customize My 500 Piece Jigsaw Puzzle?
There are only a few easy steps to checkout and once completed the checkout, we will take care of the rest and make sure you will receive your own personalized puzzle in a few days!
Choose The Image Orientation
There is either horizontal or portrait orientation available within our custom puzzle maker. It depends on the layout of your picture you want to make a puzzle from. Always aim for high resolution of your photos.
Upload Your Favorite Photos
This is truly the fun part; you can choose your favorite photo and make a personalized puzzle with a few clicks of a button.  Involve your whole family, partner, or kids in the decision which photo will work best for your very own custom puzzle. If you have more than 1 favorite photo, make your own Personalized Puzzle.
Add Your Own Text Or Other Elements to the Puzzle Image
You finished uploading your picture and positioned it (or more than one) on the puzzle layout – now can you still personalize the puzzle design itself further? At MakeYourPuzzles you can! You can add your own text and modify the text fonts, color, and appearance details, and you also can add graphics from our clip-art library – as much as you want! Be creative and make your own unique puzzle as you see it fit best. Also, there are several image filters available – from black & white to vintage filters and everything in-between.
Finally Customize The Puzzle Box
At MakeYourPuzzles you can customize and personalize your puzzle box.  Choose from 30+ box designs – we organized these designs by categories such as Christmas, Love, Gradient Designs among others. Once you selected the box designs, you can start personalizing your custom puzzle box by adding your own text, images, or clip-arts (check out our clip-art library) and make it truly yours!
The Joy of Gifting a Custom Puzzle - the perfect gift!
A 500 piece picture puzzle makes for a fantastic gift. Here's why:
Personalization: Since you can choose the image that gets printed on the puzzle, it allows for a high degree of personalization. You can select a photo that holds special meaning for the recipient, making the gift thoughtful and unique.
Entertainment: Photo Puzzles are a great way to provide hours of entertainment. They can be a fun challenge for the recipient to enjoy alone or puzzle together with family and friends.
Keepsake: Once completed, the puzzle can be preserved and framed, serving as a beautiful keepsake. It's a gift that keeps on giving, reminding your family, friends and loved ones of a special image and the fun they had putting it together.
Suitable for All Ages: Whether the recipient is a child or an adult, a 500 piece puzzle is suitable for a wide range of ages. It's a great way to encourage problem-solving skills in kids and to provide a relaxing pastime for adults.
Versatility: A custom puzzle is a great photo gift for any occasion, be it birthdays, anniversaries, holidays, or just because. It's a unique and memorable gift that shows you've put thought into it.
So, if you're looking for a gift that's personal, fun, and memorable, a custom 500 piece puzzle could be just the thing!
What Kind Of 500 Piece Photo Puzzle Can Be Customized?
Custom Photo Puzzle
The Custom Puzzle is the "Classic" category with 1 picture per puzzle. So, turn your favorite picture into a puzzle with a click of a button at MakeYourPuzzles.
It has never been easier to create your own premium custom jigsaw puzzle – just select the puzzle size and picture orientation, upload your favorite image, and optionally add your text, clip-arts to the puzzle and let us do the rest. Within a few days you will receive your own Custom Puzzle.
Did you know you can customize the puzzle box as well? Choose from 30+ box designs and add your text, clip-arts, or images to the box if you'd like. Your custom puzzle will be truly one of a kind!
Collage Photo Puzzle
Do you want to share the best of pictures with your loved ones, but you cannot pick just one? Fret no more: with our collage photo puzzles, you can pick up to 64 of your favorite photos to create a special gift that will last a lifetime! Don't spend hours sifting through photos, stressing over the one perfect picture. Choose one of our 96+ collage templates, working with between 2 to 64 images of your choice. Even low-resolution images will show up great when placed as smaller images. Just upload your images and start your quality photo collage puzzle.
Pro Photo Puzzle
We know how difficult it is to find high quality full-resolution images to make the large custom puzzles you want.
We bring to you the first of its kind; Pro Photo Puzzles: A catalog of high-resolution pictures to choose from and customize your puzzles. A picture for every keyword. Every landscape. Every city.
We will offer access to a 140 million high-resolution photo databases.
You can browse through different categories, search by keywords, and pick the photo you love. You can also add your own texts to finalize the customization process for your own unique Custom Puzzle.
Conclusion
The custom 500 piece photo puzzle, is a great puzzle size overall. Designing your own custom photo jigsaw puzzles is easy with our custom puzzle maker. The puzzle piece size is large enough to easily assemble your new and unique jigsaw puzzles. It's a perfect puzzle size for advanced beginners to the ultimate puzzle pros!
The fun starts already with making your photo jigsaw puzzle with our jigsaw puzzle maker! Make it a whole family design project! Making your very own jigsaw puzzles will be such an amazing experience! Kids will love spending time designing their jigsaw puzzle! Simply upload your favorite photos and create memories lasting for a lifetime! Turn Your photos into a puzzle today.
Quality Jigsaw Puzzles
At MakeYourPuzzles, we believe that a great puzzle starts with premium quality. We take immense pride in crafting each puzzle with meticulous attention to detail, ensuring that every piece fits perfectly. Our puzzles are made right here in the USA, using durable, eco-friendly materials that stand the test of time. The images are printed with vibrant, fade-resistant, eco-friendly colors, bringing your photos to life with stunning clarity. But our commitment to quality doesn't stop at the puzzle itself. Each photo puzzle comes in a customizable, high-quality puzzle box, adding an extra touch of elegance to your puzzle experience.
Premium Quality, Yet Affordable
Custom Jigsaw Puzzles - Made in the USA
All our jigsaw puzzles are made in the USA - from start to finish! At MakeYourPuzzles, customers can be sure their purchase will give them good value while also obtaining just the right size of puzzle suitable for each individual need. Ultimately, this makes it a great choice if you're searching for superbly crafted jigsaw puzzle without going overboard on expenses. Free Shipping on all orders in the USA is standard!
Beyond the quality of our jigsaw puzzles, we pride ourselves on our customer service. Our US based team is here to assist you at every stage of your design process, ensuring a smooth, enjoyable experience.
Eco-Friendly Photo Puzzles
We only use high-quality real blue puzzle board from ESKA. When die cut the puzzles, the layers remain tightly fixed in place and the puzzle remains intact for years to come. Unlike other puzzle companies, we do not make any compromises on the puzzle board. It is the highest quality photo puzzle board available. The board is made from 100% recovered paper.
The print sheet is also 100% recycled material and will be laminated to the puzzle board before it will be die cut into pieces. Our inks are eco-friendly and non-toxic, and we recently introduced bio-degradable puzzle bags. Our packaging is curbside recyclable – from start to finish our puzzles are eco-friendly.
FAQs
How long will it take to process an order?
Once we receive your order, production time is 3 working days. If you order on a Monday, as an example, we will ship your order on Thursday the same week. Since we ship with UPS and USPS Priority only, you will receive your puzzle order within 2-5 business days depending on your location.
We also offer Expedited Shipping for only $5.99 so your order will be delivered within 2 business days. Not fast enough? No problem, we can overnight your order for full delivery for only $29.99.
How much is shipping?
Free shipping on all orders shipped in the USA. Expedited shipping may be available for an additional fee. Once the shipping label is created, you will receive an email with all necessary delivery information.
What image file formats can be processed?
We can process JPG (jpg, jpeg), PNG, GIF and SVG formats. Most digital cameras automatically take pictures in the required JPG format! If you have any other formats, please contact us and we will make it work. Our customer service can be reached at info@makeyourpuzzle.com and will review your image quality and format quickly.
What Size Is The Puzzle Box?
Our sturdy puzzle box size is 10" x 8" x 2". It is a two-piece rigid box, and we only use 100% recycled materials. Did you know you can customize our puzzle boxes and additionally personalize them too? Learn more details about our puzzle box.
Not sure which puzzle size to choose?
So what size will work best for you? Our recommendations are as follows:
100 pieces: Children 5-7 years old
260 pieces: Children 8-9 years & adults
500 pieces: Children 10+ & adults (5+ hours are often required)
1000 pieces: Children 10+ & adults (10+ hours are often required)
The level of difficulty and time required may vary based on the uploaded photos. Rule of thumb is as more colorful the photos are, the easier the puzzle process seems to be. Recommended age for each puzzle size might vary.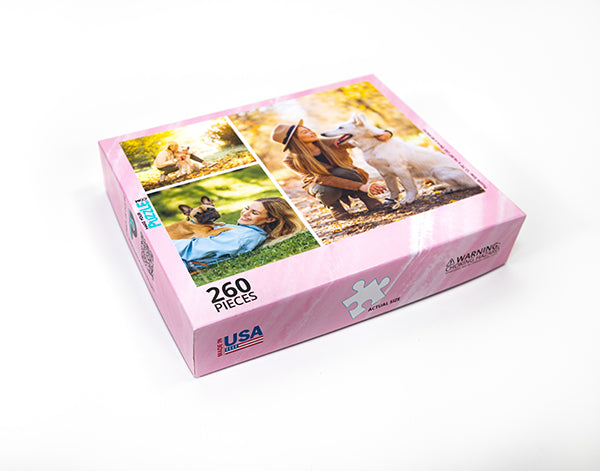 Custom Puzzle Box
Included with every puzzle order is a sturdy customizable storage box. Your puzzle image is printed on the top of the box lid and our customizer will allow you to add any message you would like.
We offer a wide selection of different box designs - check them out!
Learn More
Premium Quality | Eco-Friendly | Made in USA
Premium Quality

At MakeYourPuzzle we only use 100% recovered Premium Blue Puzzle Board - when die cut, the layers of the board remain tightly fixed in place and guarantees your puzzle remains intact for years to come. Our digital printing process ensures the highest print quality and the colors will not fade over time.

Eco-Friendly Product

We only use 100% recycled premium puzzle boards which are eco-friendly and sustainable.We use the latest cutting & printing technology. Our inks are eco-friendly, and we aim to reduce packaging to a minimum. Our packaging is bio-degradable and 100% curbside recyclable.
Check out our Collage Photo Puzzles
Choose from 96+ Collage Templates working with up to 64 images per puzzle.