Regular price
$75.99
Sale price
$42.99
Unit price
per
Sale
Sold out
Explore Pro Puzzles

140 Million Pro Photos at your fingertips!

Have you ever thought about creating your own puzzle? Now, this isn't just about sending in your pictures to be made into puzzles.

We know how difficult it is to find high-resolution pictures to make the large custom photo puzzles you want.

We know how you'd also like to use an image of your favorite Landscape, Sport, Park, Pets or City but don't know how to find them.

Are you bored with the limit to the stock-puzzles you have? Then, we bring to you the first of its kind;

A catalog of high-resolution pictures to choose from and customize your puzzles.

A picture for every keyword. Every landscape. Every city.

We will offer you access to a 140 Million High-Resolution photo databases.

You can browse through different categories, search by keywords, and pick the picture you love. You can also add your own texts to finalize the customization process for your own unique Custom Photo Puzzle.

Our goal is to simplify your customization process. You can pick away!
Your Picture Specification Guide

The higher the resolution, the better the quality of your printed photo puzzle.


100 and 260 piece puzzle: minimum 1600 pixels in length.

500 and 1000 piece puzzle: 2600 pixels in length.

We recommend a minimum dpi (dots per inch) of 100 dpi and a maximum of 300 dpi.

How do you check the pixel size of your image?

1. Right-click on the image (or, on a Mac, control-click).

2. Choose Properties or Get Info.

3. Click the Details tab. (or, on a Mac, More Info).

4. You'll see the image dimensions in pixels.
Dimensions

Puzzle overall: 19.25" x 26.63"

Puzzle Pieces: approx. 0.375" to 0.50"

Box size: 10"x 8" x 1.875"
Materials

Puzzle: 100% recycled premium blue puzzle board

Box: 100% recycled chipboard

Shipping material: curbside recyclable
Share
View full details
Dive into the World of 1000 Piece Pro Photo Puzzles
Welcome to our Pro Photo Puzzle world! We offer you a stock image database of over 140 Million images to choose from so you can browse for images by keywords or by themes and find your favorite high-resolution image for your pro photo puzzle!
There's something truly captivating about assembling a puzzle; it's a combination of the challenge and the satisfaction that comes with seeing an image come together piece by piece. Now, imagine adding a personal touch to that experience with a 1000 piece Pro Photo Puzzle from MakeYourPuzzles, where you choose from a massive catalog of over 140 million professional images to create your puzzle.
Highlights 1000 Piece Pro Photo Puzzle
Choose from 140 Million High-Resolution Images
Find your perfect image by theme or keyword
Customize your puzzle by adding your text/message
Custom Photo Puzzle Size: 19-1/4" x 26-5/8"
Custom Photo Puzzle Piece Size: 3/8" to 1/2"
Custom Jigsaw Puzzle Board: Blue Premium .7pt ESKA Puzzle Board
Highest Image Quality - vibrant fade resistant colors
Free Shipping on all jigsaw puzzle orders in the USA
Eco-Friendly - all our photo puzzles are eco-friendly products
Premium Customizable Puzzle Box included
What Is A 1000 Piece Pro Photo Puzzle?
Have you ever thought about creating your own jigsaw puzzle? Now, this isn't just about sending in your pictures to be made into puzzles.
We know how difficult it is to find high-resolution pictures to make the large custom photo puzzles you want. So don't worry if you don't have a great picture of your own, just browse our 140 Million high-resolution image database and find your perfect image for your own custom jigsaw puzzle! 
A 1000 Piece Pro Photo Puzzle is a premium, large-sized jigsaw puzzle. This unique puzzle collection allows you to choose from our vast catalog of over 140 million high-resolution professional images to be turned into your personalized 1000 piece puzzle.
Once the image is selected, you can add a personalized touch by including your own text to the puzzle, adding to its uniqueness. The completed puzzle provides a fulfilling challenge and a vibrant, high-quality picture when assembled.
Whether you're a seasoned puzzle solver seeking a new challenge or looking for a unique gift for a loved one, the 1000 Piece Pro Photo Puzzle offers an engaging and satisfying experience. The customization options also make it an ideal choice for those wanting a personalized puzzle that speaks to their interests or memories.
Creating Your 1000 PiecePro Photo Puzzle
Assembling a 1000 piece Pro Photo Puzzle can be an exciting journey, but creating one is equally rewarding. Here's how you can design your
own.
Explore the Image Catalog
MakeYourPuzzles offers you access to a vast, high-resolution image database. With 140 million images to choose from, you can select the perfect picture that resonates with you, setting the tone for your custom puzzle adventure.
Customize Your Puzzle 
Once you have selected your image, you can add your own unique touch. With our customization options, you can include text on your puzzle - a quote, a message, or a significant date - the choice is yours!
Personalize Your Puzzle Box
Choose from 30+ designs and add your own text or message to the custom puzzle box. You can add on clip-arts or images if you'd like to and make it truly a unique product!
Order Your Puzzle
After customizing your puzzle, all that's left is to place your order. Within a few clicks, your 1000 piece Pro Photo Puzzle will be on its way, ready for you to take on the challenge.
MakeYourPuzzles - Quality Made in the USA
Our team has produced millions of premium stock puzzles for customers over the last number of years. Today, we produce Custom Puzzles with the same high-quality approach by utilizing our manufacturing and materials knowledge and our goal is to offer customers the best custom puzzles for the best price, Made in the USA.
All of our custom puzzles are 100% Made in the USA - from start to finish. We do not cut any corners by importing finished or half-finished goods.
By sourcing all of our materials, manufacturing the entire product portfolio we minimize the energy consumption overall, lessening the carbon footprint.
Our high quality printing equipment utilize only 100% eco-friendly ink and non-toxic.
Most importantly by doing so, we create and secure US jobs. We are a family owned company, taking care of our employees, their families, partners and supplier to the best of our abilities.
Eco-Friendly Custom Puzzles
We love custom photo puzzles, but we also love our planet. That's why we're committed to making our puzzles as eco-friendly as possible. We use sustainable materials and processes wherever we can, and we're always looking for ways to reduce our environmental impact.
But our eco-friendly approach doesn't stop at our custom puzzle production processes. We also use minimal and recyclable packaging to keep waste to a minimum. So when you choose MakeYourPuzzles, you're not just getting a great custom puzzle - you're also doing your bit for the environment.
FAQs Pro Photo Puzzles
How many images can I select for a Pro Photo Puzzle?
When creating a Pro Photo Puzzle at MakeYourPuzzles.com, you can select one image from our vast catalog of over 140 million high-resolution professional photos. This image will form the complete picture of your unique puzzle. The selection of a single image helps to maintain the clarity and detail in the finished puzzle, especially for intricate and complex pictures.
What Puzzle Sizes Are Available For Pro Photo Puzzles?
At MakeYourPuzzles, we offer a range of sizes for our Pro Photo Puzzles. You can choose from 100, 260, 500, or 1000 piece puzzles. Whether you prefer a smaller puzzle for a quick fun session or a larger, more challenging puzzle, we have options to suit all preferences. Your selected high-resolution image will be expertly printed and cut into the puzzle size of your choice.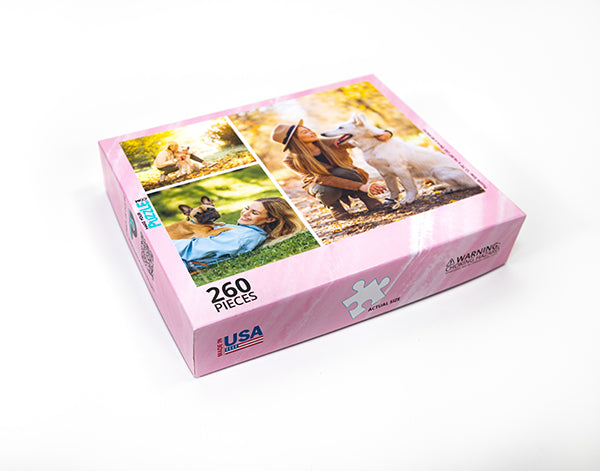 Custom Puzzle Box
Included with every puzzle order is a sturdy customizable storage box. Your puzzle image is printed on the top of the box lid and our customizer will allow you to add any message you would like.
We offer a wide selection of different box designs - check them out!
Learn More
True Premium Puzzle Quality
Premium Quality

At MakeYourPuzzle we only use 100% recovered Premium Blue Puzzle Board - when die cut, the layers of the board remain tightly fixed in place and guarantees your puzzle remains intact for years to come. Our digital printing process ensures the highest print quality and the colors will not fade over time.

Eco-Friendly Product

We only use 100% recycled premium puzzle boards which are eco-friendly and sustainable.We use the latest cutting & printing technology. Our inks are eco-friendly, and we aim to reduce packaging to a minimum. Our packaging is bio-degradable and 100% curbside recyclable.